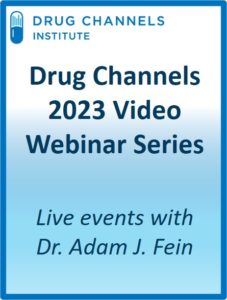 I invite you to join me for three new video webinars during 2023. These live, interactive events will be broadcast via Zoom from
the Drug Channels Video studio in beautiful downtown Philadelphia
.
During these events, I'll address the latest issues confronting the U.S. drug channel. Topics will be determined based on what's happening—trends, policy changes, company announcements, and more. I'll share DCI's latest market data to help you stay on top of new developments. You will be able to use these events as both a capstone of your current learning and a touchpoint for the future.
The three events are scheduled for 12:00 p.m. to 1:30 p.m. ET on the following dates:
December 15, 2023 (Drug Channels Outlook 2024)
For 2023, we are offering a new
Corporate Pricing
option that will allow larger organizations to register hundreds of colleagues for one fixed price.
Read on for my video invitation and full details on pricing, including substantial discounts for multiple sites.
Click here if you can't see the video below.
PRICING (1 to 100 sites)
You can sign up for this series of three educational opportunities for $990 per viewing device for the entire series—or only $330 per viewing device for each event. We are offering substantial discounts for multiple registrations from the same organization. An unlimited number of people may watch at one location, if they can watch from a single device.
Click here to order.
All discounts will be automatically computed based on the number of registrations you enter in your cart. (You can reset the cart by entering 0 in the quantity field.)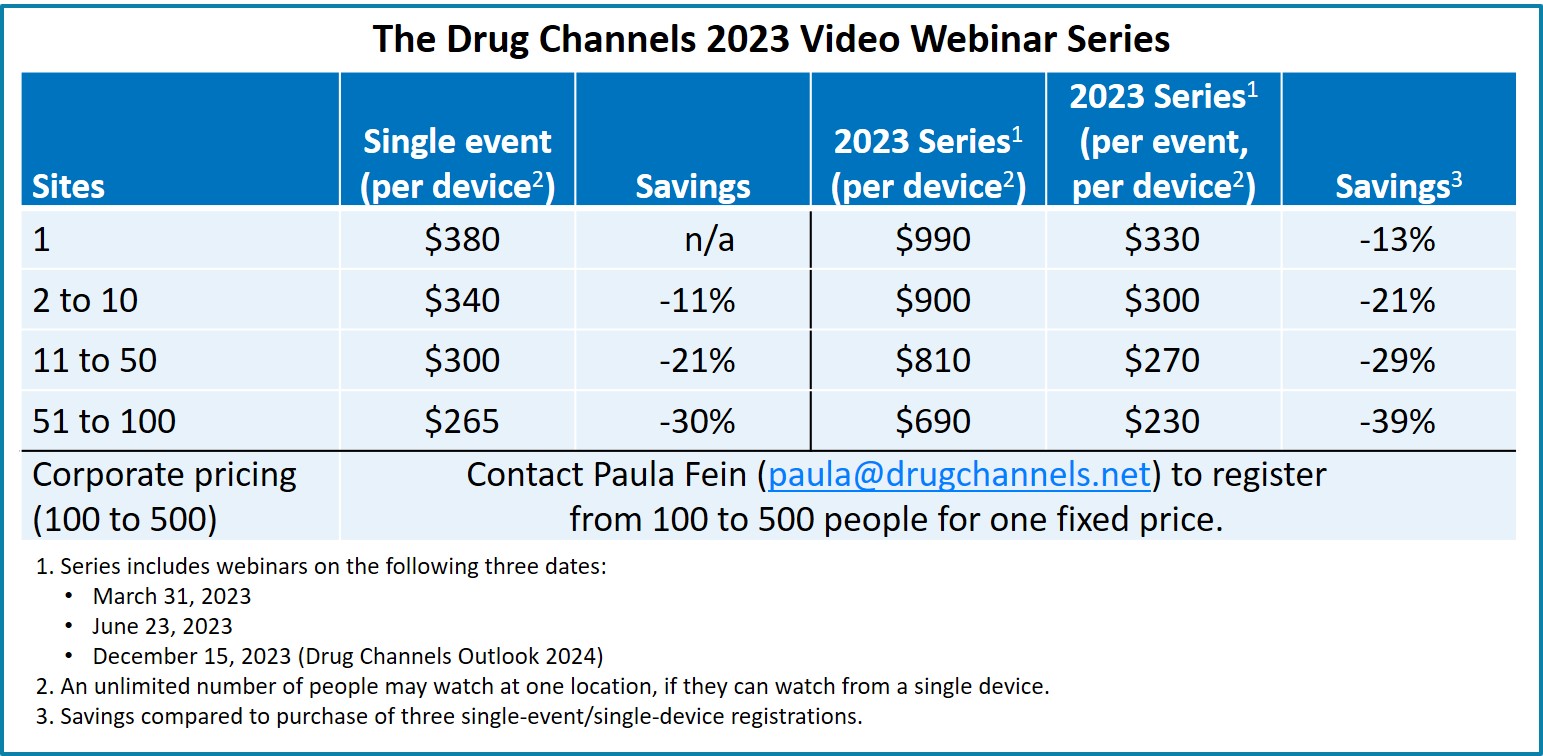 Please contact
Paula Fein
(paula@drugchannels.net)
if you have any questions. If you purchase access for multiple devices, we will contact you for a list of your participants and their email addresses.
Payment can be made with all major credit cards (Visa, MasterCard, American Express, and Discover) or via PayPal.
Click here to email us if you would like to pay by corporate purchase order or check.
CORPORATE PRICING (100 to 500 sites)
New for 2023! Your organization can purchase corporate access to register from 100 to 500 sites for one fixed price. This allows larger organizations to invite hundreds of colleagues without worrying about additional per-person expenses.
Companies that choose this option will receive a
custom, branded signup link
so you can easily register as many people as you want. We will automatically refund payments from anyone at a company with corporate access who purchases a single registration using their corporate email account.
During 2022, this option proved very popular with companies that wanted to invite entire departments, field teams, and global divisions.
Contact
Paula Fein
(
paula@drugchannels.net
) for details and pricing.
IMPORTANT THINGS TO KNOW
Watch and listen via any device with a web browser (computer, iPad, iPhone/Android, etc.) There is no access via telephone.
We use Zoom technology for this webinar. Every registrant will receive an email from Zoom with a link to watch the event. This link is unique to the registrant and can only be accessed once. We recommend that every registrant downloads the Zoom client software/app.
Prior to each event, every registrant will receive an email from Zoom with a link to access the event and add it to their calendar. They will also receive reminder emails one week before and one hour before each event.
During each webinar, Dr. Fein will give participants an opportunity to unmute themselves and ask live questions.
After each event, every registrant will receive an email from Zoom with links to register for a video replay of the webinar and download a PDF of the full slide deck.
Unfortunately, we are unable to offer refunds.