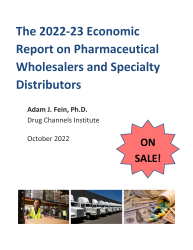 On October 11, 2022, Drug Channels Institute will release
The 2022–23 Economic Report on Pharmaceutical Wholesalers and Specialty Distributors
. This report—our thirteenth edition— remains the most comprehensive, fact-based tool for understanding and analyzing the large and growing U.S. pharmaceutical distribution industry.
We are providing you with the opportunity to preorder this thoroughly updated and revised 2022-23 edition at special discounted prices. This means that you can be among the first to access our new report. Those who preorder will receive a download link before October 11.
You can pay online with all major credit cards (Visa, MasterCard, American Express, and Discover) or via PayPal.
Click here to email us if you would like to pay by corporate purchase order or check.
Preorder and launch pricing discounts will be valid through October 21, 2022.
The 2022–23 Economic Report on Pharmaceutical Wholesalers and Specialty Distributors
is a definitive, nonpartisan resource. The new edition thoroughly updates our annual exploration of the industry's interactions with—and services for—other participants in our healthcare system. The report synthesizes a wealth of statistical data, research studies, financial information, and my own unique business consulting experience.
Our 2022-23 edition contains the most current financial and industry data. We include detailed information about the strategies, market positions, and executive compensation of the three largest companies: AmerisourceBergen, Cardinal Health, and McKesson. The report updates our annual analysis of each wholesaler's business segments and underlying business profitability, based upon our proprietary economic models. The information allows you to assess differences among the public wholesalers' business organizations, strategies, and financial performance.
It will aid pharmaceutical manufacturers, wholesalers, pharmacists, pharmacy owners, hospital executives, pharmacy buyers, benefit managers, managed care executives, policy analysts, investors, consultants, and many others. No other report on the market today offers the depth, insight and analysis of the
2022-23 Economic Report on Pharmaceutical Wholesalers and Specialty Distributors
.
Thank you for your interest in our work. If you have any questions before purchasing a license to the report,
please email me
. Enjoy!