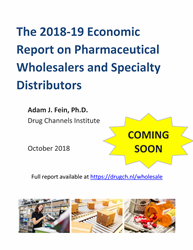 On October 9, 2018, Drug Channels Institute will release
The 2018–19 Economic Report on Pharmaceutical Wholesalers and Specialty Distributors
.
It's the ninth edition of our annual evaluation of the economic and business realities driving U.S. drug distribution. This definitive, nonpartisan resource remains the most comprehensive tool for analyzing the industry. The 2018-19 edition has been thoroughly updated and revised with the latest information.
This year, we are providing you with the opportunity to preorder the 2018-19 edition at special discounted prices. This means that you can be among the first to access our new report. Those who preorder will receive a download link on or before October 9.
You can pay online with all major credit cards or via PayPal. Email
admin@drugchannels.net
if you would like to pay by corporate purchase order or check. Preorder and launch pricing discounts will be valid through October 26, 2018.
I'll share more details when we release the full report in a few weeks. In the meantime,
click here to download a free pre-publication draft overview
.
If you have any questions before purchasing a license to the report,
please email me
.
All the best,
Adam