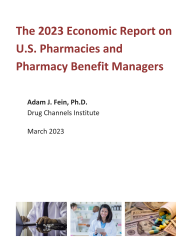 On March 14, 2023, Drug Channels Institute will release
The 2023 Economic Report on U.S. Pharmacies and Pharmacy Benefit Managers
. This report—our fourteenth edition—remains the most comprehensive, fact-based tool for understanding the entire U.S. drug pricing, reimbursement, and dispensing system.
12 chapters, 480+ pages, 241 exhibits, 900+ endnotes: There is nothing else available that comes close to this valuable resource.
We are providing you with the opportunity to preorder this thoroughly updated, revised, and expanded 2023 edition at special discounted prices. This means that you can be among the first to access our new report. Those who preorder will receive a download link before March 14.
You can pay online with all major credit cards (Visa, MasterCard, American Express, and Discover) or via PayPal.
Click here to email us if you would like to pay by corporate purchase order or check.
Special preorder and launch pricing discounts will be valid through April 3, 2023.
The 2023 Economic Report on U.S. Pharmacies and Pharmacy Benefit Managers
is a definitive, nonpartisan resource that includes the most current information about pharmacy dispensing channels, third-party payers, pharmacy benefit managers (PBMs), patients' financial contributions, government regulations, and much more.
As always, we have updated all market and industry data with the most current information available, including our annual analyses of the market positions of the largest pharmacies, specialty pharmacies, and PBMs. Throughout the report, we have added new industry data, deepened our coverage of many topics, and added more trending information. Material that addresses COVID-19 and its impact on the pharmacy and PBM industries has been integrated into our analyses throughout the report.
This 2023 edition includes substantial new material. A new Section 12.5. addresses the Inflation Reduction Act of 2022. In Subsection 12.5.1., we summarize the key provisions of the law that relate to the topics in this report. In Subsection 12.5.2., we highlight potential implications of the IRA for the drug channel.
There are 241 exhibits in the 2023 edition, compared with 216 in the 2022 edition. What's more, 35 of the exhibits in the 2023 edition include new data sources that have not been used in previous editions.
Download a free report overview for more details on the new sections and content.
The chart below illustrates the depth and breadth of the 2023 edition. The numbers indicate the report chapter that corresponds to, explains, and analyzes each channel flow.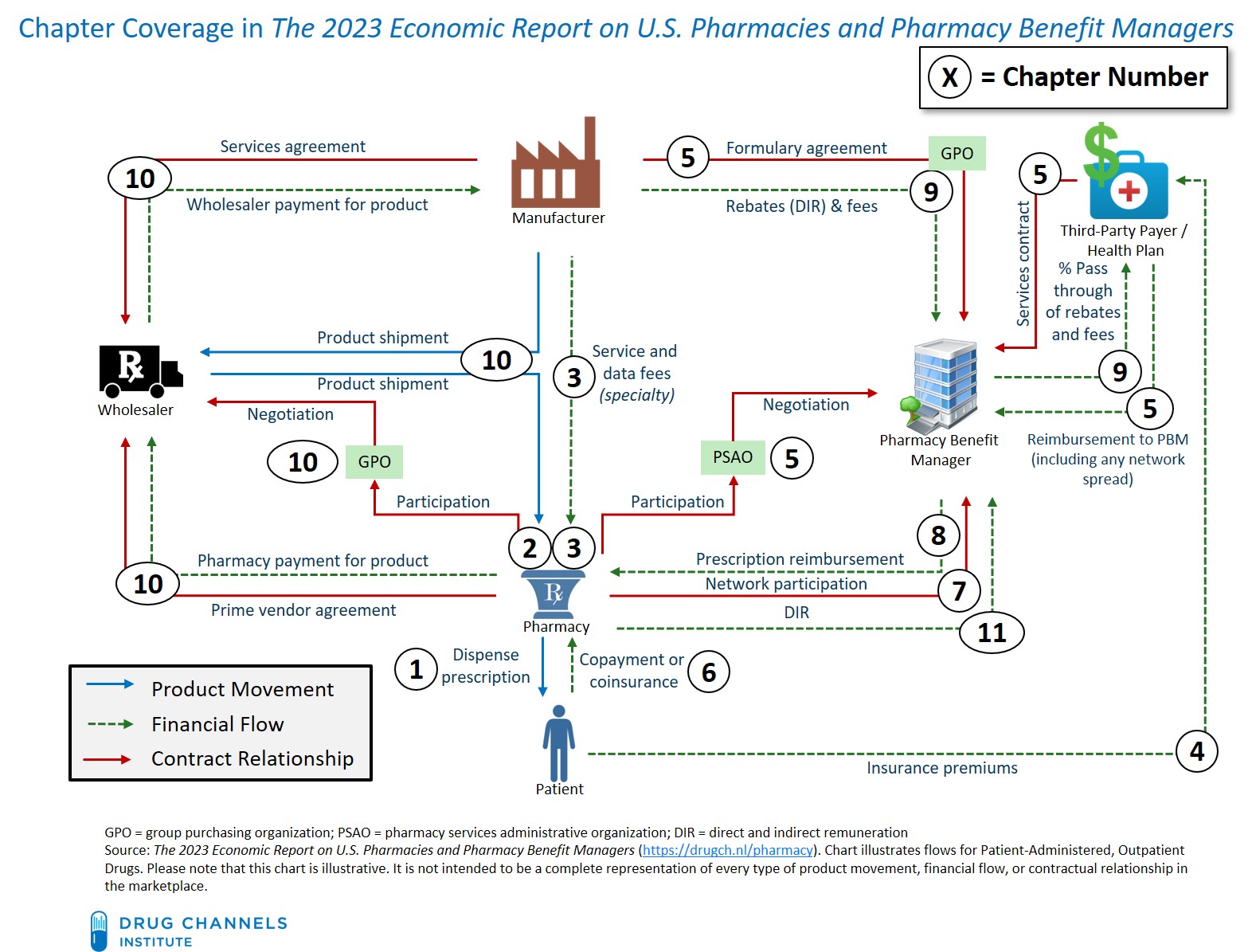 Thank you for your interest in our work. If you have any questions before purchasing a license to the report,
please email me
. Enjoy!