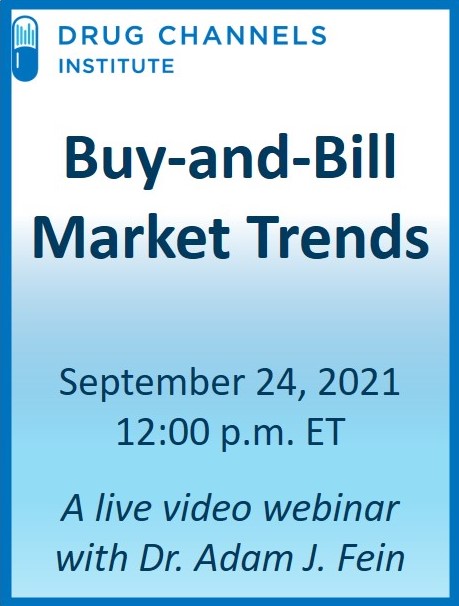 Dr. Adam J. Fein, CEO of Drug Channels Institute (DCI) and the author of
Drug Channels
, invites you to join him for his latest video webinar:
Drug Channels Update: Buy-and-Bill Market Trends
Friday, September 24, 2021, from 12:00 p.m. to 1:30 p.m. ET
This page describes the event and explains how to purchase a registration.
This event is part of
The Drug Channels 2021 Quarterly Video Webinar Series
. Anyone who registered for the entire series will receive an email with a link to access the June event.
WHAT YOU WILL LEARN
During the September event, Dr. Fein will focus on the latest market developments in the buy-and-bill market, including:
The key channels for provider-administered drugs
The flow of funds and product in the buy-and-bill system
The latest data on reimbursement models and methodologies
The impact of COVID-19 on provider-administered channels
Crucial market developments and insights regarding:

Consolidation and vertical integration
Hospital transparency
Biosimilars
The 340B Drug Pricing Program
Medicare Part B policy
PBM and payer tactics
Specialty distributors
As always, Dr. Fein will clearly distinguish his opinions and interpretations from the objective facts and data.
PLUS: During the webinar, Dr. Fein will give participants an opportunity to unmute themselves and ask live questions. The webinar will be 90 minutes to accommodate audience questions.
Read on for full details on pricing and registration.
PRICING OPTIONS
You can register for this unique educational opportunity for only $300 per viewing device. You will also receive a link to download the full slide deck and have an opportunity to watch a replay.
We are offering substantial discounts for multiple registrations from the same organization. We know that many of you may still be working from home, so rates for multiple registrations are as low as $180 per device—a 40% savings. An unlimited number of people may watch at one location if they can watch from a single device.
Click here to order.
All discounts will be automatically computed based on the number of registrations you enter in your cart. (You can reset the cart by entering 0 in the quantity field.)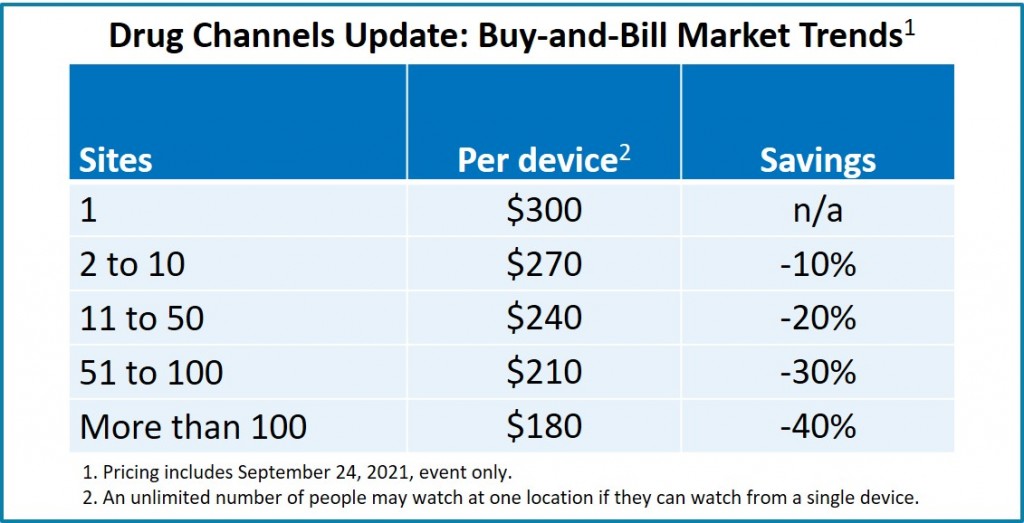 Please contact
Paula Fein
(paula@drugchannels.net)
if you have any questions. If you purchase access for multiple devices, we will contact you for a list of your participants and their email addresses.
Payment can be made with all major credit cards (Visa, MasterCard, American Express, and Discover) or via PayPal.
Click here to email us if you would like to pay by corporate purchase order or check.
IMPORTANT THINGS TO KNOW
Watch and listen via any device with a web browser (computer, iPad, iPhone/Android, etc.) There is no access via telephone.
We use Zoom technology for this webinar. You will receive an email from Zoom with a link to watch the event. You will be able to watch with your browser. We recommend that you download the Zoom client software/app.
After the event, every registrant will receive a link to download a PDF of the event slides and have the opportunity to watch a replay of the full event.
Pembroke Consulting clients receive free access to this webinar. Contact Tamra Feldman (admin@drugchannels.net) for details. We will automatically refund payments from anyone at a Pembroke client who purchases access using their corporate email account.