Dr. Adam J. Fein, CEO of Drug Channels Institute (DCI) and the author of
Drug Channels
, invites you to join him for a new video webinar:
Specialty Drugs Update: Trends, Controversies, and Outlook
This event will be broadcast live on July 29, 2022,
from 12:00 p.m. to 1:30 p.m. ET
This article describes the event and explains how to purchase a registration to participate in the event.
This event is part of
The Drug Channels 2022 Video Webinar Series
. Anyone who registered for the entire series will receive an email with a link to access the July event.
WHAT YOU WILL LEARN
Join Dr. Fein as he helps you and your team stay on top of the latest trends, market data, and strategies for specialty drugs. He will draw from exclusive information found in
DCI's industry economic reports
.
During the event, Dr. Fein will cover a wide range of topics, including:
Specialty drugs in pharmacy vs. medical benefits
How plan sponsors are managing specialty benefits
Distribution channels to providers, pharmacies, and patients
DCI's latest data on the specialty market position of distributors, pharmacies, and PBMs
The latest on copay accumulators and maximizers
Specialty carve-out and alternative funding programs
The 340B Drug Pricing Program and specialty drugs
Drug pricing controversies and policy debates
PLUS: During the webinar, Dr. Fein will give participants an opportunity to unmute themselves and ask live questions.
As always, Dr. Fein will clearly distinguish his opinions and interpretations from the objective facts and data.
Read on for full details on pricing and registration.
PRICING OPTIONS
You can register for this unique educational opportunity for only $350 per viewing device. You will also receive a link to download the full slide deck.
We are offering substantial discounts for multiple registrations from the same organization. We know that many of you may still be working from home, so rates for multiple registrations are as low as $210 per device—a 40% savings. An unlimited number of people may watch at one location if they can watch from a single device.
Click here to order.
All discounts will be automatically computed based on the number of registrations you enter in your cart. (You can reset the cart by entering 0 in the quantity field.)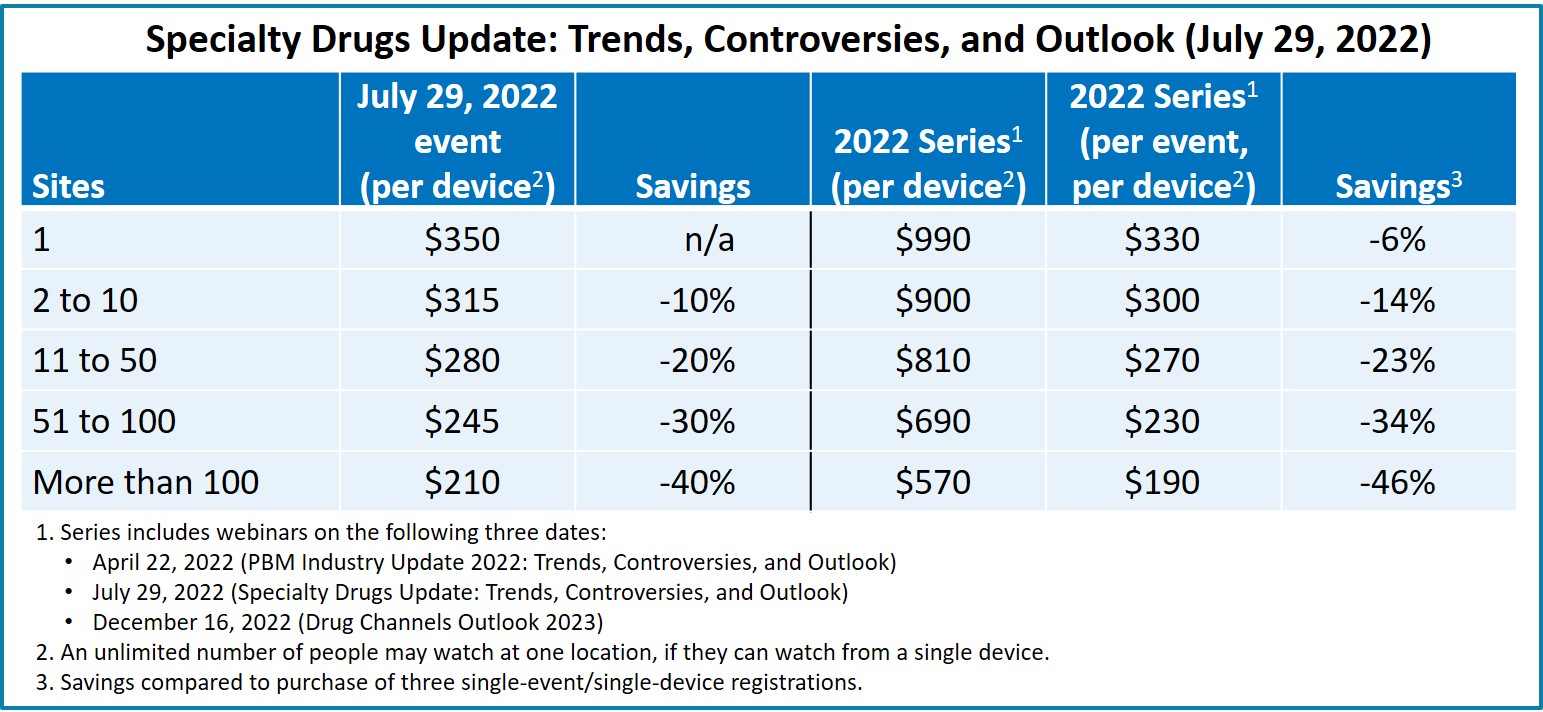 (You can reset the cart by entering 0 in the quantity field.)
Please contact
Paula Fein
(paula@drugchannels.net)
if you have any questions. If you purchase access for multiple devices, we will contact you for a list of your participants and their email addresses.
Click here to register for the full Drug Channels 2022 Video Webinar Series
If you purchase the full series, then we will send you a link where you can view
our April 22 event
and download Dr. Fein's slides from that event.
Payment can be made with all major credit cards (Visa, MasterCard, American Express, and Discover) or via PayPal.
Click here to email us if you would like to pay by corporate purchase order or check.
IMPORTANT THINGS TO KNOW
Watch and listen via any device with a web browser (computer, iPad, iPhone/Android, etc.) There is no access via telephone.
We use Zoom technology for this webinar. You will receive an email from Zoom with a link to watch the event. This link is unique to you and can only be accessed once. You will be able to watch with your browser. We recommend that you download the Zoom client software/app.
After the event, every registrant will receive an email from Zoom with links to download the slides and sign up to watch a replay (at no additional cost).
Unfortunately, we are unable to offer refunds. Those who can't attend the event will have access to a full replay of the webinar and the slides.
Pembroke Consulting retainer consulting clients receive free access to this webinar. Contact Tamra Feldman (admin@drugchannels.net) for details. We will automatically refund payments from anyone at a Pembroke client who purchases access using their corporate email account. Companies that purchase Drug Channels Institute's economic reports are not considered retainer clients of Pembroke Consulting.
This event is part of The Drug Channels 2022 Video Webinar Series. If you have already purchased the full series, you should have received an email from no-reply@zoom.us with your unique link to access the July 29 event.